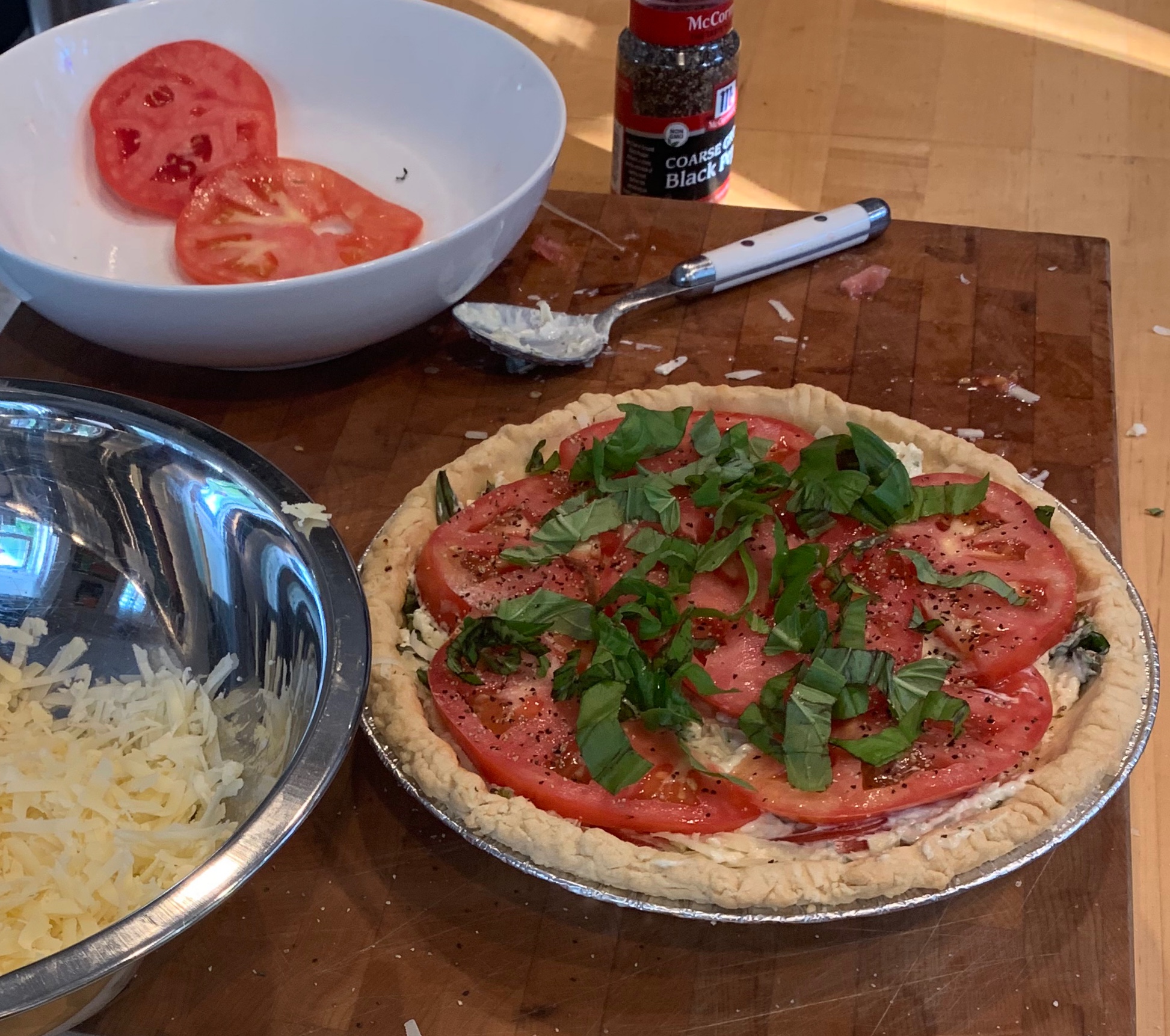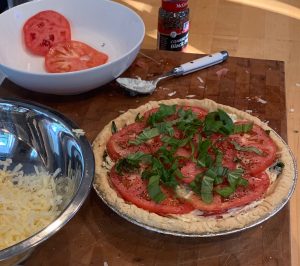 Sweet Tomato Pie
Makes 6 to 8 servings
2 tablespoons all-purpose flour
1 Pillsbury refrigerated piecrust
2 tablespoons unsalted butter
1 tablespoon extra virgin olive oil
1 large onion, thinly sliced
1 tablespoon sugar
4 cloves garlic, thinly sliced
4 ounces cream cheese, softened
½  cup mayonnaise
2 tablespoons heavy cream
1 tablespoon sour cream
1 tablespoon honey mustard
1 cup shredded Parmesan cheese
4 green onions, cut into 2-inch pieces, including green part
4 large red tomatoes, sliced into 1/4 inch slices, preferably homegrown
½  teaspoon kosher salt
½  teaspoon parsley ground pepper
½  cup fresh basil, cut in ribbons
2 cups shredded Gruyere or Swiss cheese
1. Preheat oven to 450°
2. Sprinkle flour over counter or pastry marble and roll pie crust though to fit a 7 x 11" rectangular baking dish. Poke bottom of crust with a fork in several places. Bake for 9 to 10 minutes or until crust is lightly browned.
3. Remove from oven to cool. Reduce oven temperature to 400°.
4. In a cast iron or heavy skillet, heat butter and olive oil over medium heat until it begins to sizzle. Add onions and sugar. Sauté until onions are very brown and caramelized.
5. Add garlic and stir constantly for another 1 to 2 minutes or until garlic is cooked through and tender. Remove onions and garlic from a skillet and set aside to cool.
6. In the bowl of a food processor, combine cream cheese, mayonnaise, heavy cream, sour cream, honey mustard, Parmesan cheese, and green onions. Processed until well mixed. Transfer to small mixing bowl; set aside.
7. In the cold piecrust, layer half of the following in gradients: sautéed onions, cream cheese mixture, sliced tomatoes, salt, black pepper, basil, and Gruyere cheese. Repeat layering using remaining ingredients.
8. Bake 35 minutes or until pie is bubbling and top is browned.
9. Remove from oven and pool for 15 to 20 minutes before slicing.
** LuLu Clue:
Successful baking depends on precision. Since I tend to improvise when cooking, I'm not a very good baker, which is why I use a ready-made pastry. I've found Pillsbury to be the closest to homemade. Look for the kind sold in the box in the dairy case. Just unroll the dough and press it into a pie pan. If you're an avid baker or proficient pastry chef, by all means use your favorite pie crust recipe. However, make sure it is not sweet though; between the caramelized onions and the tomatoes, this dish is already plenty sweet.