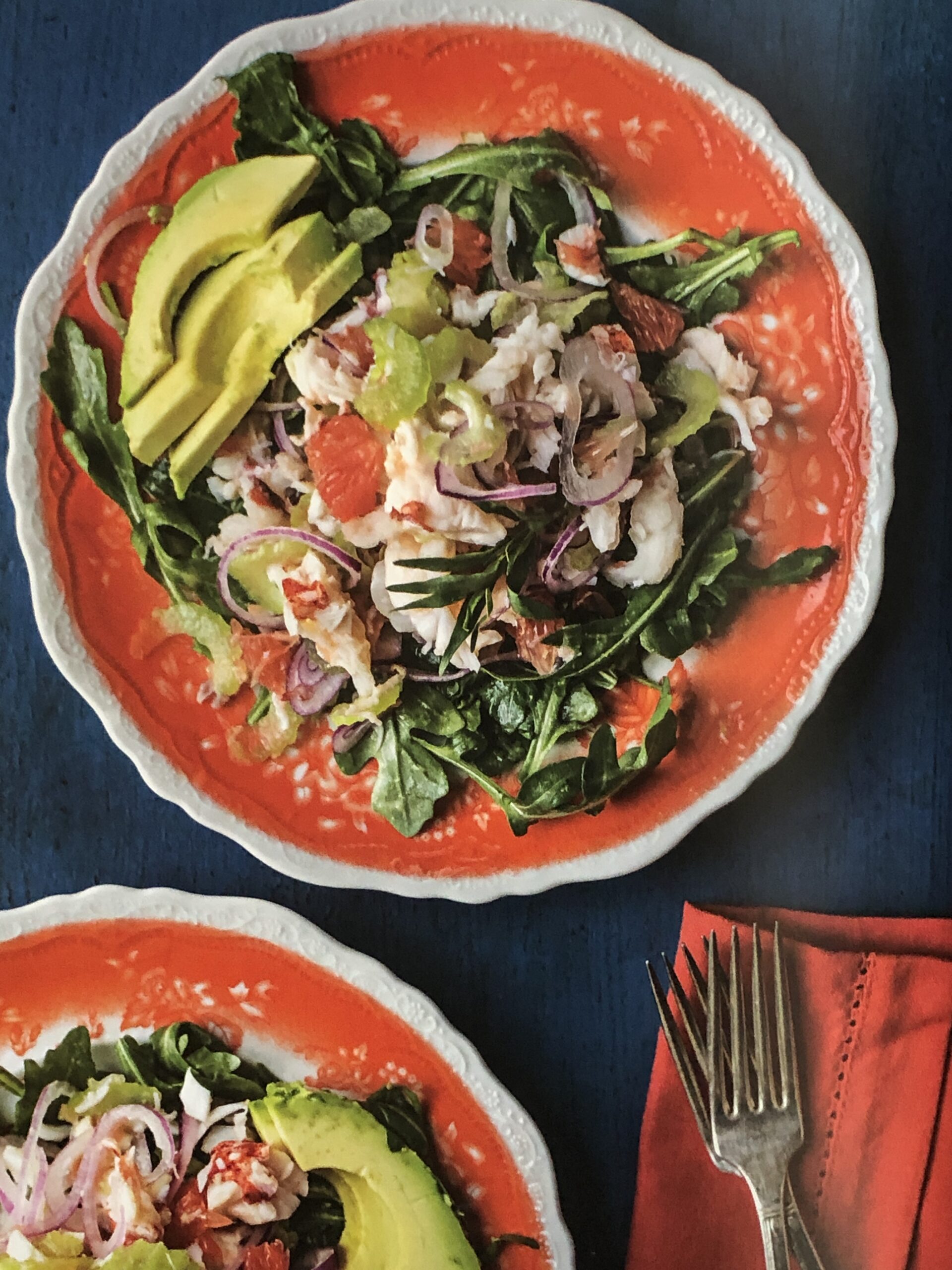 My mother loved the finer things in life… champagne, caviar, and lobster! This salad is perfect for a special luncheon celebrating Mother's Day. If you don't happen to have the delicacy of Florida Lobster available, you can substitute Maine lobster anytime a recipe calls for Florida Lobster – or, by all means, you can even use shrimp. Whether you're celebrating being a mom, or celebrating your mother, or both – treat yourself to something wonderful this weekend! 
Gumbo Love and Lobster too,
LuLu
Serves 4
4 Florida lobster tails, or 2 cups lobster meat
1 lemon, thinly sliced
½  cup white wine
1 teaspoon sea salt
1 tablespoon whole black peppercorns
½  cup thinly sliced celery
2 grapefruits, peeled, sliced, and chopped into chunks
1/8 cup thinly sliced red onion
1 (1-pound) bag fresh salad greens
Citrus-Tarragon dressing 
(see below)
1 avocado, pitted, peeled, and thinly sliced
1 teaspoon finely chopped fresh tarragon, for garnish
1. Cut the lobster tails (if using) in half lengthwise, making sure to cut through both sides.
2. Fill a large heavy skillet (10 to 12 inches) with water to about an inch from the top. Add the lemon, wine, salt, and pepper corns and bring to a boil.
3. Add the lobster tails, reduce the heat to medium, and cover. Poach the tails for 7 minutes, or until cooked through. Transfer the tails to a plate and let cool completely.
4. Remove the lobster meat from the shells, chop the meat into bite-size chunks, and refrigerate until well chilled.
5. In a large bowl, combine the chilled lobster, celery, grapefruit and onion. Mix together using your hands.
6. Place the salad greens in a separate bowl right before serving. Pour a small amount of dressing over  the greens and toss together to mix. 
7. Pour the remaining dressing over the lobster mixture and toss to coat. 
8. To serve, put some greens on each plate, top with the lobster mixture, and add slices of avocado. Garnish with the chopped tarragon.
Citrus Tarragon Dressing
Makes about 1 ½  cups
Juice of one large orange (about 1/3 cup)
Juice of one lime (about 2 tablespoons)
3 tablespoons grainy Dijon mustard or Creole mustard
1 garlic clove crushed
1/4 teaspoon truffle salt or sea salt
Pinch of freshly ground black pepper
½  cup extra virgin olive oil
1 teaspoon finely chopped fresh tarragon
1 tablespoon honey
Combine all the ingredients in a medium bowl or airtight container.  Cover and refrigerate for up to one week.