Lucy Anne Buffett, also known by her childhood nickname LuLu, and the official "Crazy Sista" of the Buffett clan, is a self-proclaimed gypsy rebel, having come from a long line of sailors, salesmen, storytellers, and generation after generation of staunch, Southern matriarchs who were stellar cooks. The little sister of singer Jimmy Buffett, Lucy was born in Mobile, Alabama, to her Mississippi coast parents who both worked at the local shipyard. Education was an important mandate in the Buffett home and Lucy's mother chose to work so that the children could attend private Catholic schools. "We got our passion and drive from our father but it was from our mother that we got our talent and curiosity," she explains. Lucy cites two central themes that have molded her journey and made her the successful restaurateur that she is today: "First, that I am Southern—and not just Southern but Coastal Southern. And second is my love of food, cooking and entertaining."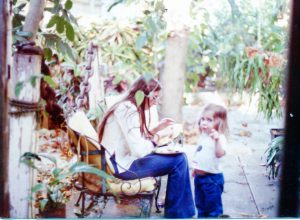 Through many adventures—and she would say a few misadventures—Lucy has raised two daughters, traveled, lived, worked and cooked her way on all three coasts. From her hometown in Alabama to New York, New Orleans, the Caribbean, Key West and Los Angeles, she has left a myriad of jobs in her rear-view mirror – caterer, copywriter, office manager, production coordinator and even personal chef and personal assistant to a couple of movie stars along the way.
In her forties, Lucy answered the call to return to her Gulf Coast roots to help care for her elderly and ailing parents and opened a little dive on Week's Bay in Fairhope, Alabama called LuLu's Sunset Grill, a combination bait shop/burger joint bar. The restaurant was a hit and became a beloved local watering hole until five years later, when her land lease was not renewed. But gumbo love runs deep, and everything that wasn't nailed down was loaded onto a 150-foot barge and taken to a larger location on the Intracoastal Waterway in Gulf Shores, Alabama where it became a well-known coastal destination. Continuing to grow and thrive, there are now two LuLu's locations, the second in Destin, Florida and a third on the way, opening in Myrtle Beach, South Carolina in 2018.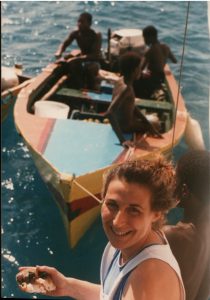 What has moved Lucy Buffett and her LuLu's brand into a favorite spot in the hearts of people all over the country? It's all about love. The food is always good, the service is exceptional, the hospitality feels like home, the music is always live, and the fun is always present, proven by the more than one million visitors each year. So what is her secret ingredient? It's quite simple: Lucy cares! Her passion in providing an authentic Gulf Coast experience translates into her cookbooks as well, serving an equal helping of delicious recipes and memorable, often humorous, stories from Lucy's own life. With her most recent book, Gumbo Love, hitting shelves on May 9, 2017, Lucy reveals what's really behind the mind of the Crazy Sista, LuLu: Lucy Buffett.
Describe yourself in a few sentences.
I'm a quintessential baby boomer with a Type-A personality and middle-class work ethic, who loves, loves, loves to chat but who also requires lots of quiet time to slow down my light-speed monkey mind. Though the "fantasy me" dreams of being a poet and living a very simple life, the "reluctant entrepreneur me" simply cannot NOT take advantage of a good opportunity that has blessed my path. I am a late-bloomer and have quite mindfully decided to age backwards instead of forwards.
What did you want to be as a little girl?
I wanted to be an actor and a singer on the Johnny Carson show. My mom got me involved in local theater and I played the child's lead in South Pacific. I can still belt out Dites-moi in French. My backup plan was to become a medical technologist because I liked a character on the television soap opera, The Doctors, who played one. I lost interest in the latter idea when I realized I would have to excel in science to enter the medical profession.
Glass half full or half empty and why?
These days, I choose half full. But it comes with a great deal of mindfulness and 34 years of consciousness work. I went into therapy for the first time when I was 29 because I was unhappy and confused. I felt like the world was against me. With lots (and I mean LOTS) of work, I realized that I wasn't a victim of a cruel world but was instead experiencing the consequences of my choices. That inner work has become less work and more of what I call my spiritual practice that sustains me to stay grounded, positive, productive, and compassionate in this crazy ole world.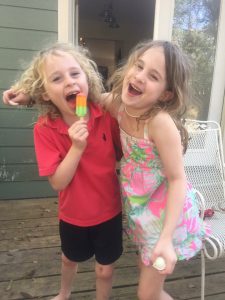 What's the last picture you took with your phone?
Tuna tartar with avocado and wasabi smelt roe at "Ambrosia," the best sushi restaurant in Key West. (It was delicious!)
What cheers you up?
Music, meditation, swimming, walking on the beach, watching a comedy, reading inspirational writers, and my grandchildren.
What do you love about writing?
I love the moment when my ego gets out of the way and I connect to the creative source that is simply using me as a conduit. That's when the words simply flow and time seems to stand still.
What's the best compliment you've ever received?

"Gosh, you are just so real."
What's your favorite thing on the LuLu's menu?

Crabmelt Nachos
What's the best concert you've ever been to?
Most meaningful and heartfelt was when Jimmy played the beach in Gulf Shores with a free concert after the oil spill. He had Allen Toussaint and Jesse Winchester with him and the Coral Reefers. Sadly, both Allen and Jesse are now jamming in heaven but on that day, it was amazing. Thirty thousand people packed the beach and Jimmy was deeply moved by the cause and the response of the crowd. We Gulf Coasters were heart-broken to what was happening to our Gulf of Mexico. He brought a little healing to all of us that day.
Runner up would be the Rolling Stones in Atlanta a couple of years ago. Mick Jagger was simply outstanding, as good or better in his seventies than he was in his thirties. Remarkable!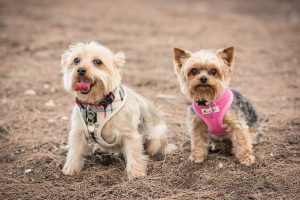 What are your pet's names? How did they get those names?
My tiny Yorkie pup hearthrob is D'Lila June Buffett. She is named after Sean "Diddy" Combs' daughter, D'Lila. The June seemed to fit and she is Southern, so it is natural for her to have a double name. One of my grandpups, another yorkie, is Sir Huckleberry of Berrydom. We call him Huck or Tiny for short. Then there is the final member of the yorkie pack, my housekeeper Margaret's pup. He is the youngest and the most rambunctious of the three. His name is J Gatsby named after Fitzgerald's "Great Gatsby." We call him Gats for short. Finally, in the canine category, I have another grandpup, Reggie, a special-needs hound mix (rescued from the Haven in Fairhope, Alabama) who now resides happily in New Orleans and is named after former New Orleans Saints player, Reggie Bush.
Now we head to my barn. The only horse I still have is a mare that was born in the pasture. Her name is Little Miss Malibu but we call her BooBoo for short. I was in Malibu when she was born ten years ago this May. It was a short trip and I was hoping to make it back for her birth, but she had a mind of her own and still does.
And rounding out the menagerie, I have two barn cats named ManKitty (although 'he' is actually a 'she') and a very skittish rescued white cat named Licorice. My granddaughter, Niamh, gave them their names.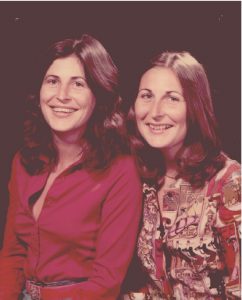 Who are Your Crazy Sistas?
My craziest sista is my blood sista, LaLa, who is an amazing cowgirl and staunchest supporter; there is no mistaking that we are related as we are both loud, smart, funny and driven. I also have a tribe of "goddess girlfriends" that love, support, and forgive me on a regular basis, and you all know who you are!
Favorite Beach Spot and Thing to Do At the Beach:
Perdido Key Beach down the road from my house, Fort Zachary Taylor beach in Key West, and the beach in Boca Grande, Fl down the road from my sister's house. You will find me walking and looking for the perfect shell, or drawing a big medicine wheel in the sand where I sit in the middle and commune with Mother Ocean and the pod of dolphin that inevitably seem to know when I'm there longing for a joyful glimpse of them.
The Song That Best Describes You:

Lucy in the Sky with Diamonds
"I am a late-bloomer and have quite mindfully decided to age backwards instead of forwards." – Lucy Buffett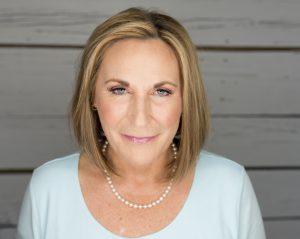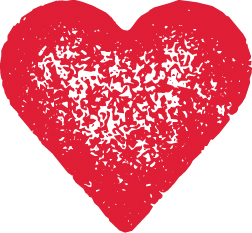 Read more about Lucy and her crazy life on her blog, with new posts monthly!