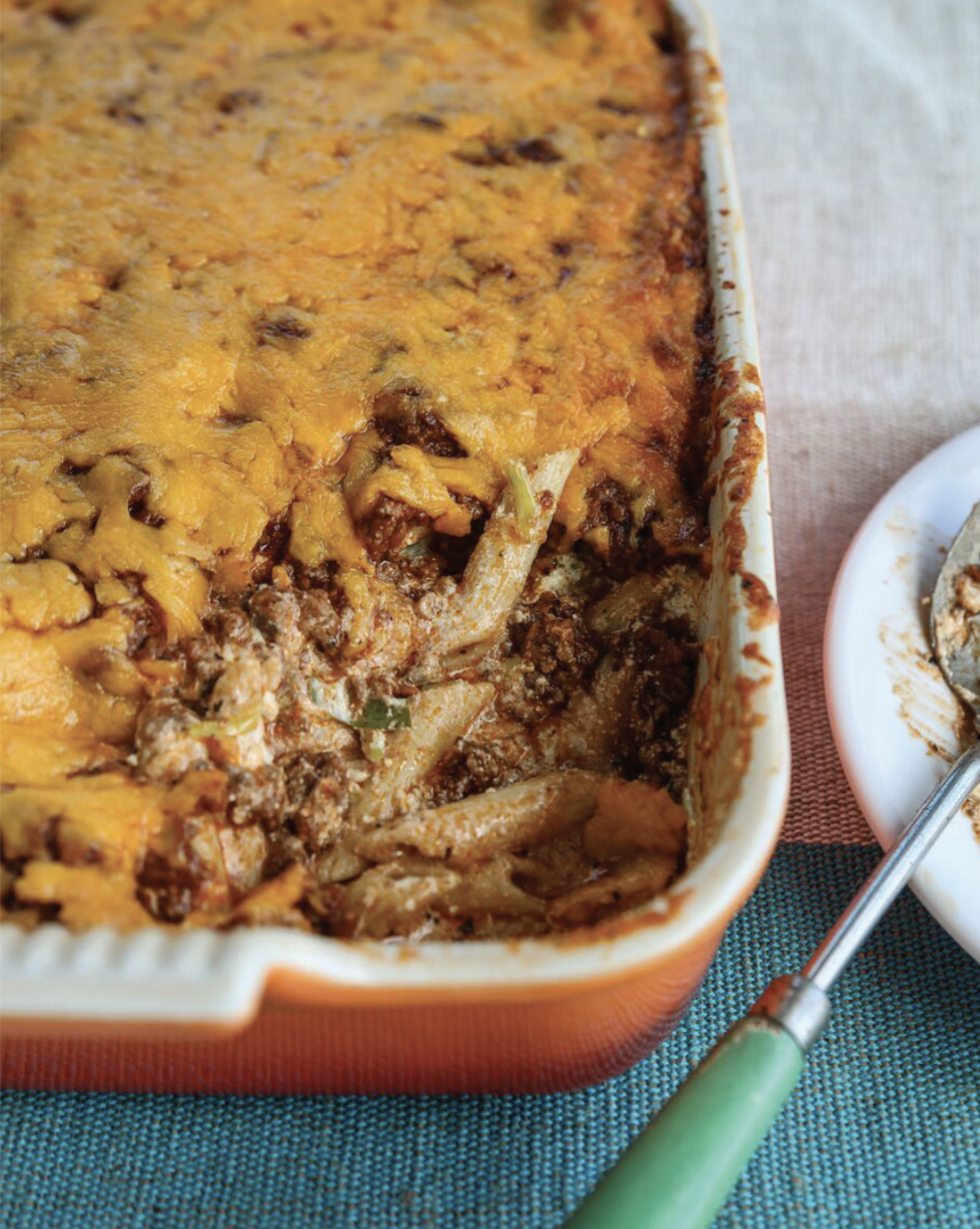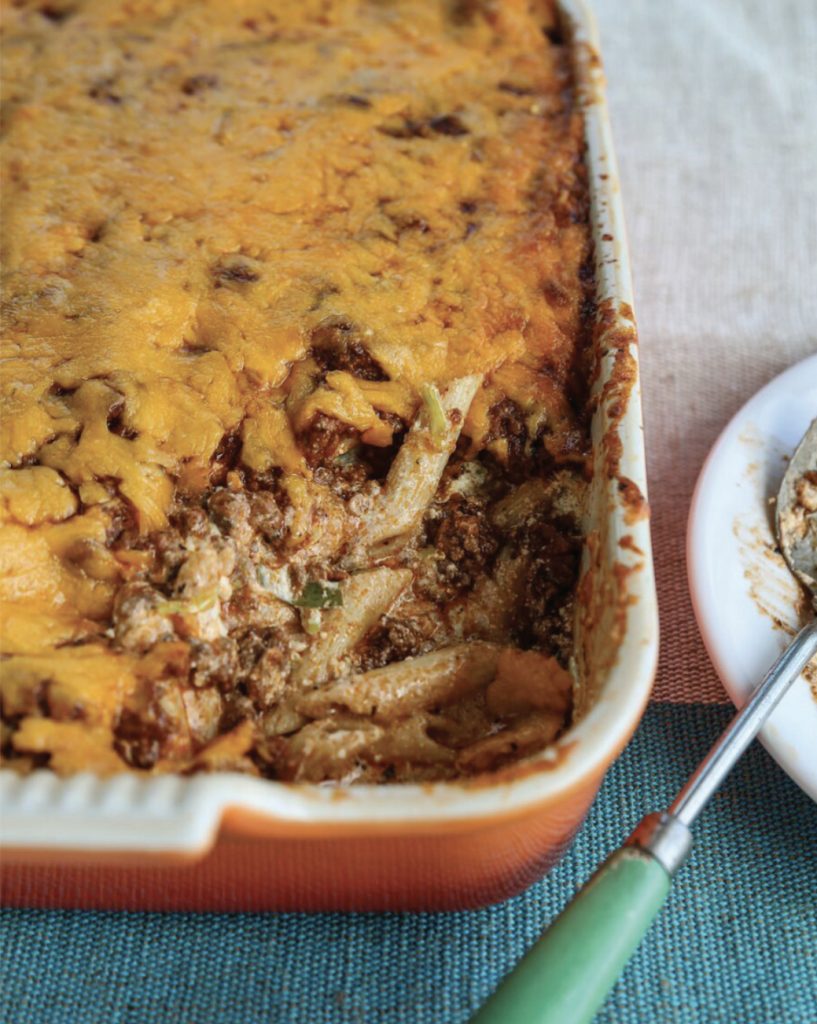 The temps and times are calling for comfort food!
The original version of this casserole comes from one of my most beloved cookbooks, Jubilee! from the Junior League of Mobile. It was truly one of the first recipes I ever learned to cook, and one of the few dishes my two young children would eat.
When I asked them what recipe I should post this week Mara immediately requested Heavenly Casserole. You can thank her for reminding me of this gem.
Ground beef, buttery noodles, and a savory cream cheese filling – this is comfort food at its very best. What is your favorite comfort food to make? If you make the casserole, let me know how it goes. Share here in the comments or on social media. 
Have fun in the kitchen this weekend! 
Stay warm and safe! 
GumboLove,
LuLu
Ingredients
Serves 10
Butter, for the baking dish
1 (8-ounce) package cream cheese, at room temperature
1 cup cottage cheese
2 teaspoons finely chopped fresh rosemary
1 cup sour cream
2 pounds ground beef
3 garlic cloves, finely chopped
1 teaspoon dried Italian seasoning
1 teaspoon sea salt
1/4 teaspoon freshly ground black pepper
1 teaspoon dried basil
½  to 1 teaspoon LuLu's Crazy Creola seasoning or other Creole seasoning
2 (15-ounce) cans tomato sauce ( 3 ½  cups)
1 tablespoon Worcestershire sauce
2 teaspoons hot sauce
1 teaspoon sugar
1 (16-ounce) package penne pasta
½  cup (1 stick) unsalted butter, melted
1 cup shredded mozzarella cheese
1 cup shredded cheddar cheese
Directions
1. Preheat the oven to 350°F. Lightly butter a 9 x 13 inch baking dish.
2. In a food processor, process the green onions until finally chopped.
3. Add the cream cheese (you may want to cut it into squares before adding), cottage cheese, rosemary, and sour cream to the food processor and pulse until thoroughly combined. Set aside at room temperature.
4. In a large heavy skillet (10 to 12 inches), brown the beef, using a fork to break it up into small chunks. Once browned, drain any excess grease from the beef.
5. Add the garlic, Italian seasoning, salt, pepper, basil, real seasoning, and tomato sauce to the beef in the skillet. Stir well.
6. Add Worcestershire, hot sauce, and sugar and simmer over low heat for 20 minutes.
7. Prepare the pasta according to the shortest time on the package directions – you will want it al dente, with a little bit of firmness – stirring occasionally.
8. Drain the pasta and place half into the prepared baking dish.
9. Pour half of the melted butter over the top of the pasta and then add half the cream cheese mixture, spreading the mixture over the top in an even layer.
10. Spoon half the meat mixture over the cream cheese layer, and then sprinkle the mozzarella on top.
11. Repeat the layers, beginning with the remaining half of the melted butter, and sprinkle in the cheddar on top of the last layer.
12. Bake for 55 minutes to one hour, or until bubbling and heated through in the middle. You might want to place a baking sheet underneath the baking dish in case the casserole bubbles over.
This recipe is excerpted from my cookbook Gumbo Love. To order the cookbook, CLICK HERE.