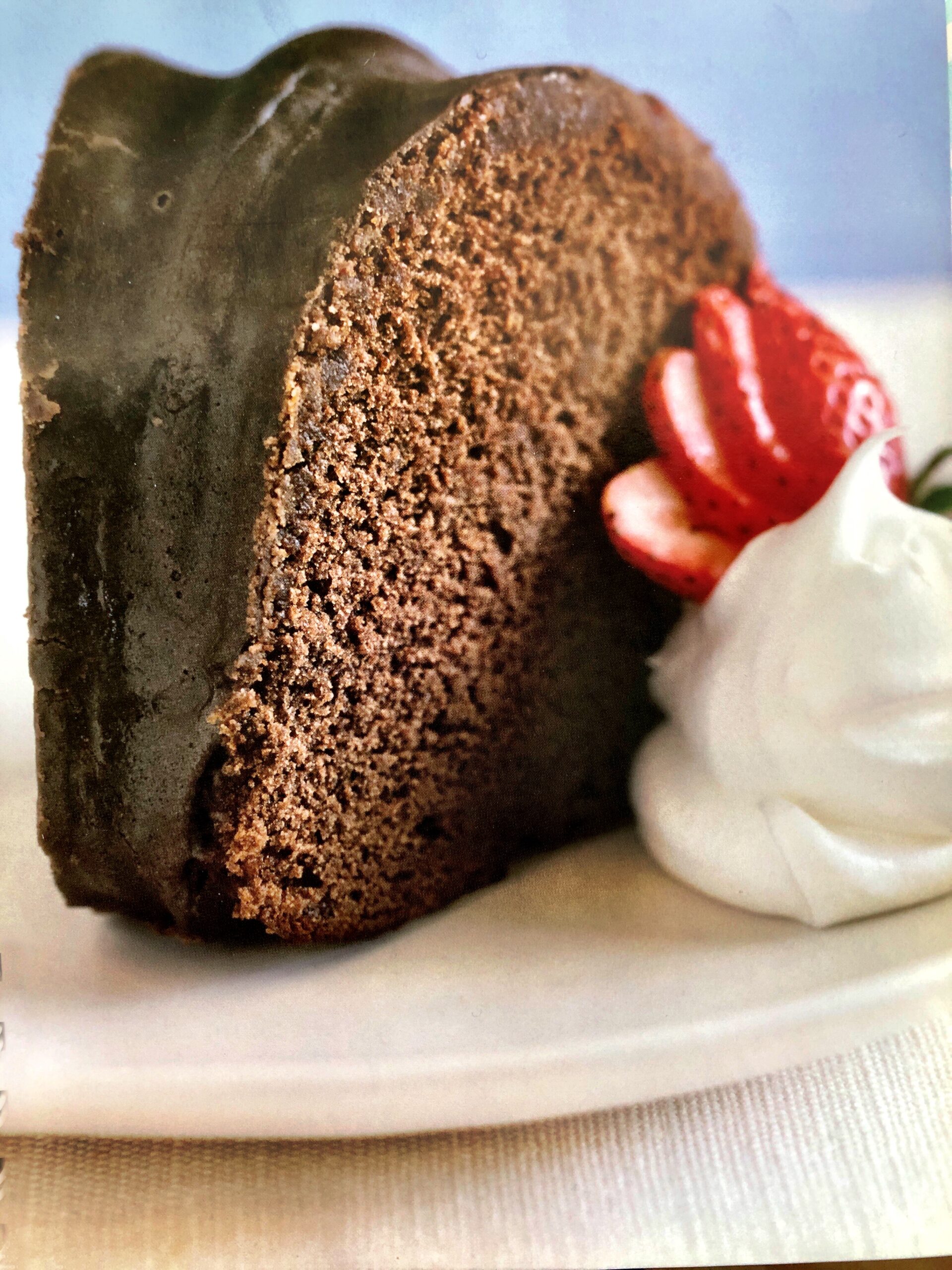 It's the sweetest time of year! I'm feeling in the mood to bake a cake for Valentine's Day this weekend. It's been a while since I made the Chocolate Pound Cake with Mocha Glaze from my first cookbook, LuLu's Kitchen. 
So the story goes, true Pound Cake is a recipe that dates back to the 1700s. It gets the name of pound cake, because of how it was made. Originally, the recipe called for one pound each of flour, sugar, butter, and eggs. 
Can you imagine?!? Even in its modified form, pound cake is simple to make and a decadent splurge. Definitely one of my favorites.
In this version with the Mocha Glaze, I love to dip the strawberries in the glaze for an extra little tidbit of wonderfulness.
Let us know on social media if you make the cake and how it goes. Or, do you have a favorite Valentine's treat that you like to make? We would love to hear about that too! 
Wishing you all pounds of sweetness and love this weekend and always!
GumboLove,  LuLu
Chocolate Pound Cake with Mocha Glaze
INGREDIENTS:
BATTER
½ cup shortening, plus extra to grease pan
3 cups granulated sugar
2 sticks unsalted butter, softened
5 eggs
3 cups all purpose flour, plus extra to flour pan
½ teaspoon baking powder
½ teaspoon salt
4 heaping teaspoons cocoa powder
1 cup whole milk
1 teaspoon vanilla extract
MOCHA GLAZE
5 tablespoons unsalted butter, softened
1 ½ cups powdered sugar, sifted
1 tablespoon cocoa powder
1 teaspoon vanilla extract
1 – 3 tablespoons hot coffee
DIRECTIONS:
1. Preheat oven to 325°.
2. Grease and flour a tube or Bundt cake pan.
3. Beat shortening, sugar, and butter together until light and fluffy.
4. Fold in eggs, one art a time.
5. In a large mixing bowl, combine flour, baking powder, salt, and cocoa powder.
6. Fold dry ingredients, alternately with milk, into creamed mixture until smooth. Stir in vanilla and mix well.
7. Pour batter into prepared cake pan. Bake for 1 hour, 15 minutes or until a toothpick inserted in center comes out clean.
8. Prepare MOCHA GLAZE while cake is baking. In a mixing bowl, combine butter, powdered sugar, and cocoa powder. Stir in vanilla. Gradually add enough coffee to reach desired consistency.
9. Allow cake to cool for about 30 minutes.
10. Run a sharp knife around the edges of the pan to loosen cake. Invert onto a serving plate.
11. Drizzle glaze over top while cake is still warm.