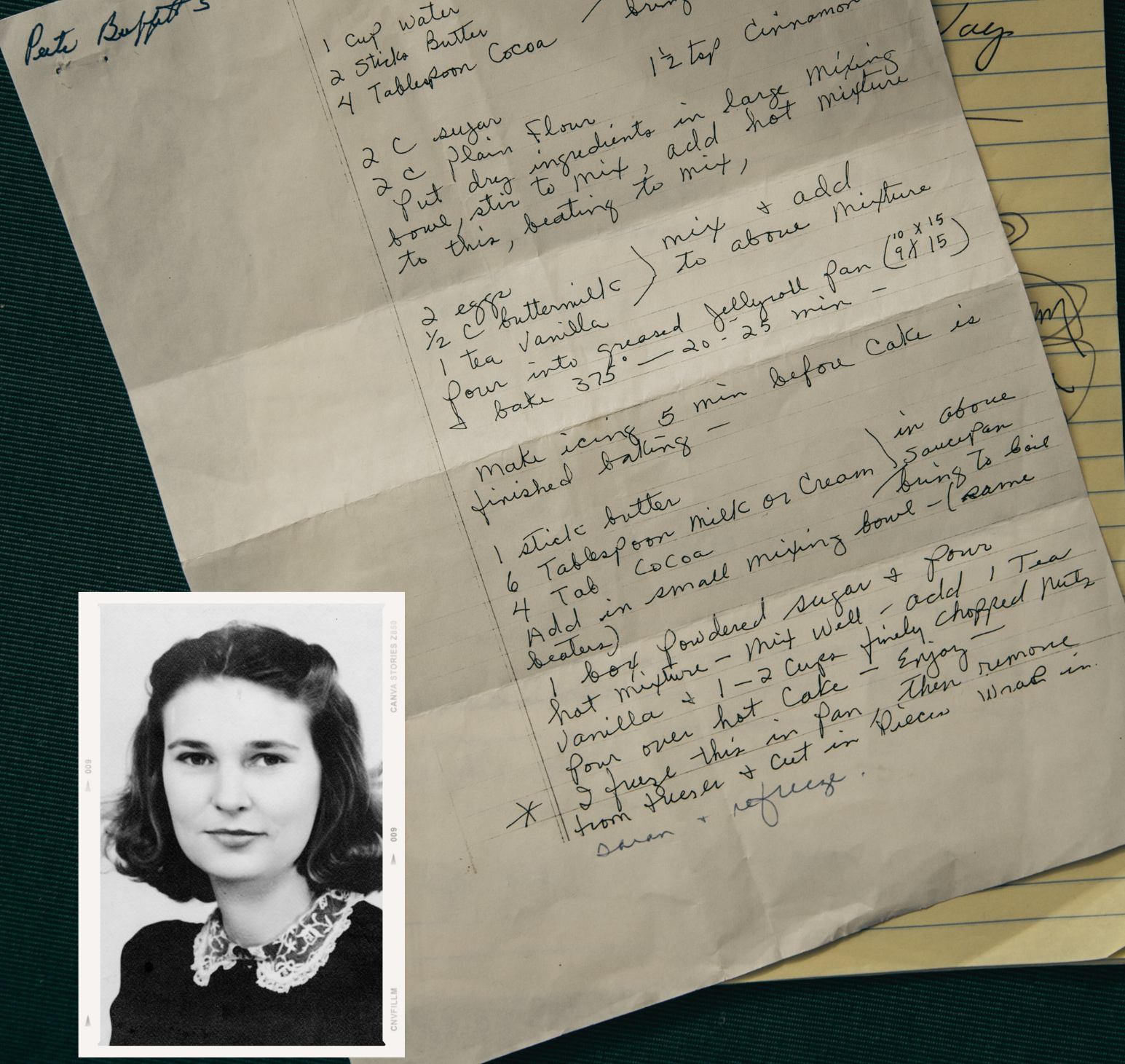 Like me, my mother, Peets, had a mighty respectable sweet tooth. Though she wasn't crazy about cooking, she could make a pretty good dessert when inspired. After she and my dad retired, they hosted pier parties every weekend with tons of fabulous food and frozen drinks, while guests, swam, sunned, and gossiped. It was during that period that I remember Mama started making this cake. I never knew the name of it; I just recalled how lusciously, sweet and chocolatey rich it was. It would freeze beautifully, and she always had some available for any spontaneous gathering or pieces wrapped in plastic for the kids. 
Fast forward 33 years: long gone are those memorable Buffett pier parties, and I'm sitting in my office at LuLu's going through mail when I find an envelope that some folks from the Carolinas had left for me at my restaurant. I open what I think is a letter, and I gasped as I gaze at my mother's undeniably perfect penmanship, and a recipe for the long forgotten, chocolate sheet cake, titled "Peets Buffet's Lazy V Cake." 
I was caught between tears and giggles, transported back to the days when we would solve the problems of the world over coffee, and completely amused by the name of the cake, because I had never heard her refer to it that way. 
The methods and ingredients she used are unconventional and not all the way I might approach this type of cake, but it worked. Is it any surprise that the daughter would do it differently than her mother? And yet, I am finding lately that there are so many things I do as she did, I seem to become more and more like her. I'd give a million dollars to have another cup of coffee with her. To this day, there doesn't seem to be any rhyme or reason why this cake is called Lazy V, and that's just one of the many things I wish I could ask her.
Peets Buffett's 
Lazy V Chocolate Fudge Cake
Makes one 9 by 15-inch sheet cake
Cake
Nonstick baking spray
1 cup (2 sticks) unsalted butter
1/4 cup unsweetened cocoa powder
1 cup water
2 cups sugar
2 cups all-purpose flour
1 ½ teaspoons ground cinnamon
1/4 teaspoon sea salt 
2 large eggs, at room temperature
½ cup butter milk
1 teaspoon vanilla extract
Frosting
½ cup (one stick) unsalted butter
6 tablespoons heavy cream
1/4 cup unsweetened cocoa powder
3 cups confectioners' sugar, sifted
1 teaspoon vanilla extract
1 cup pecan pieces
To make the cake:
1. Preheat the oven to 375°F. Grease a 9 x 15-inch baking pan with nonstick baking spray.
2. Combine the butter, cocoa powder, and water in a medium saucepan and heat over medium heat, stirring continuously, until the butter has melted, and the ingredients are well combined. Remove from the heat.
3. In a large bowl, sift together the sugar, flour, cinnamon, and salt.
4. Add the hot butter mixture to the dry ingredients and beat until smooth.
5. In a small bowl, beat the eggs, buttermilk, and vanilla. Add a little of the warm chocolate batter to the egg mixture to temper the eggs. Mix until well combined.
6. Slowly add the egg mixture to the chocolate batter and beat until smooth.
7. Pour the batter into the prepared baking pan. Bake for 20 to 25 minutes, or until a toothpick inserted into the center of the cake comes out clean.
8. Frost the cake while it's still hot.
To make the frosting:
9. In a medium saucepan, combine the butter, cream, and cocoa powder and heat over medium heat, stirring continuously, until the butter has melted and the ingredients are well combined. Remove from the heat. 
10. Add the confectioners' sugar and beat until smooth. 
11. Stir in the vanilla and pecans. 
12. Pour the hot frosting over the hot cake and spread it to the edges of the cake.
Note: you can actually freeze this cake in the pan. It will last in the refrigerator for 1 to 2 weeks or in the freezer for up to two months