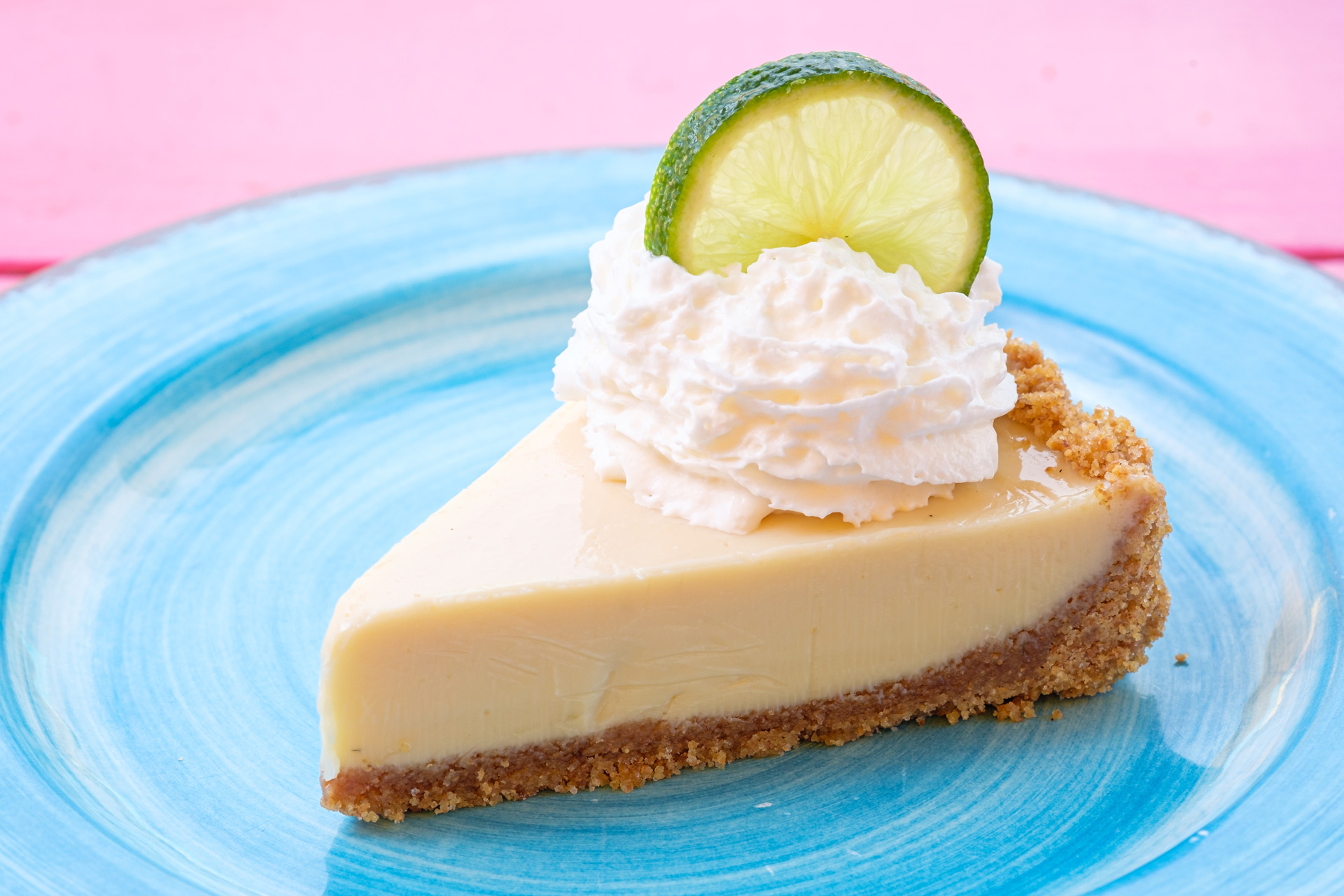 There really is nothing like the tart little Key Lime. It's most famous vehicle, the Key Lime Pie is probably one of my favorite desserts – the flavors are so fresh and bright. It's perfect for a springtime pot-luck or special family meal. 
This recipe hails from my first cookbook, Crazy Sista Cooking and has been a staple throughout my cooking life. It's relatively easy to make and always knocks everyone's socks off. It's never a bad idea to make two. 
MAKES ONE PIE
2 cups finely crushed graham crackers
1 stick unsalted butter, melted
3 tablespoon sugar
1 teaspoon unflavored gelatin
2 tablespoons cold water
2 egg yolks
½  cup Key lime juice, freshly squeezed, if available
1 (14 ounce) can sweetened condensed milk
Grand Marnier® Whipped Cream (see recipe below) 
1 lime, thinly sliced for garnish
Preheat oven to 350°.
Combine cracker crumbs, melted, butter, and sugar in a small mixing bowl.
Press evenly into a 9-inch pie pan with hands or the back of a spoon.
Bake for 10 minutes or until lightly browned. Set aside to cool.
In a small mixing bowl, dissolve gelatin in cold water, stir, and set aside.
In a heavy sauce pan, combine egg yolks and lime juice and stir over medium-low heat for 10 minutes or until slightly thick and very hot. Be careful not to bring to a full boil.
Add softened gelatin to lime juice mixture. Whisk well for one minute or until gelatin is dissolved.
To quickly cool mixture, place sauce, pan in a large bowl filled with ice.
When completely cool, gradually whisk in condensed milk, stirring until blended well and mixture becomes thick.
Spoon into graham cracker crust and spread evenly.
Cover filling with plastic wrap and refrigerate.
When ready to serve, top pie with fresh, Grand Marnier Whipped Cream and lime slices.
LuLu clue: this is one of the few recipes for which I would substitute a bottled juice. A good quality Key lime juice is available in most large, grocery stores. 
Grand Marnier® Whipped Cream
½  pint heavy cream, well chilled
2 tablespoons sugar
1 tablespoon Grand Marnier® liquor, optional.
In a stainless steel mixing bowl, combine cream, sugar, and liqueur.
Whip with an electric mixer on high until cream holds peaks. Be careful not to over whip cream or it will separate. Cream is properly whipped when you can drag a finger through it, and a trough remains.
LuLu clue: chill the stainless steel bowl and beaters before whipping the cream for quicker results.