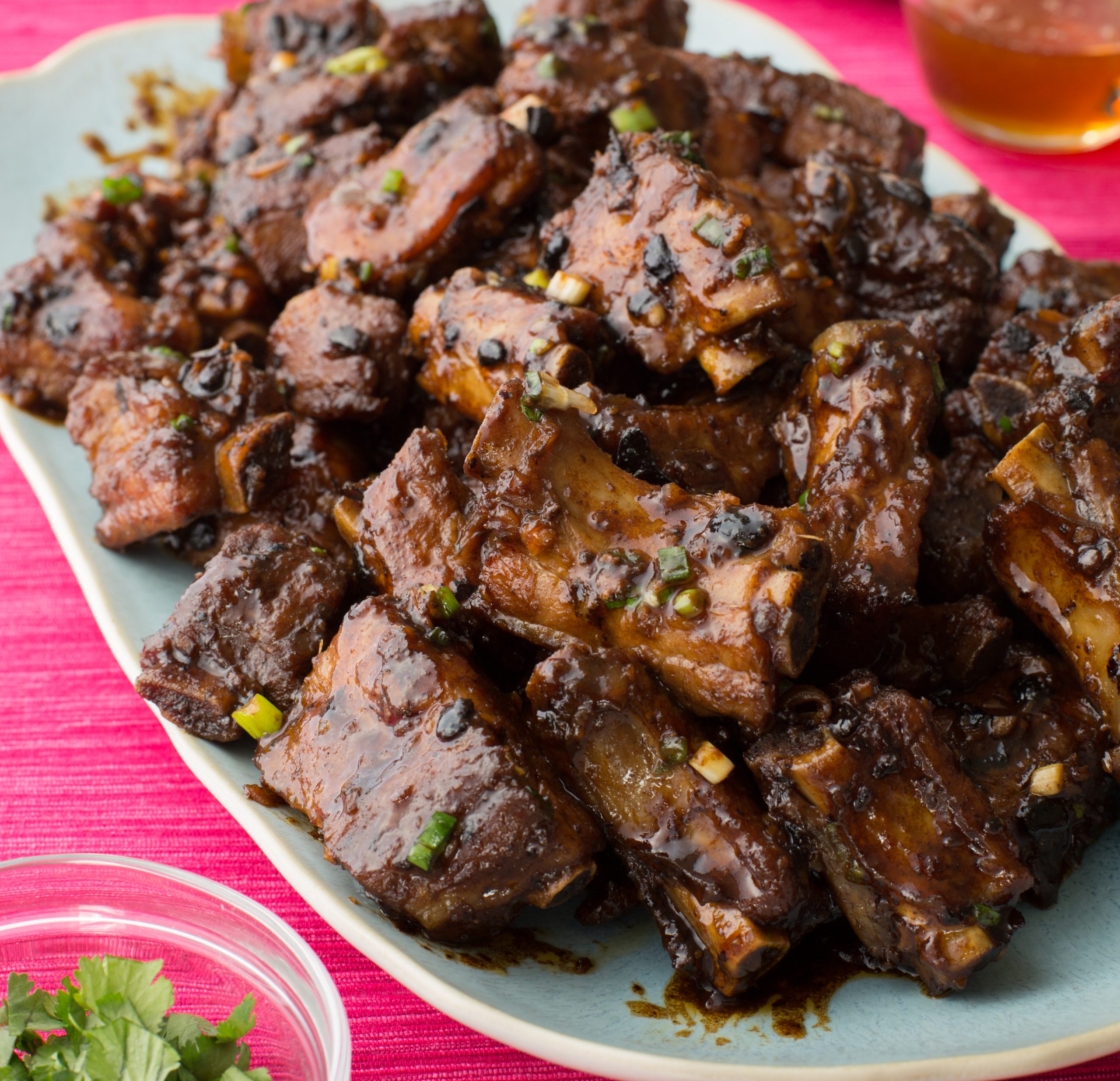 A million years ago, when I was a young cook and read any recipe book I could afford, I purchased a paperback Sunset cookbook on Chinese cooking. I was fascinated by learning this new cuisine, and luckily, there was an Asian grocery store in Mobile, Alabama where I could purchase what were then quite exotic ingredients. (These days you can get almost anything pretty quickly ordering online.) One such ingredient was fermented black beans. They had a salty, pungent flavor I had never tasted before and that I found absolutely alluring. In that little cookbook, there was a recipe for cocktail black bean spareribs, and every time I cooked the dish, the compliments were overflowing. Recently, when I was creating new recipes, I decided to rework that black bean rib recipe with some Gulf Coast, attitude, and the Honey Glazed Sticky Ribs was the end result. They're full of flavor that's a mix of the traditional and the unusual. This rib dish has quickly become a stand-up favorite! It's perfect to impress at pot lucks or if you want to infuse more exotic flavors in your barbecue game.
Honey Glazed Sticky Ribs
Makes 20 Riblets
2 pounds baby back pork ribs (your butcher can saw the entire rack horizontally to make riblets)
1/2 teaspoon sea salt
1/2 teaspoon freshly ground black pepper
1/2 cup beef broth
1 cup Allegro Original Marinade (you can substitute teriyaki sauce)
Cooking sauce
1/4 cup soy sauce
1/4 cup good-quality sake
1/4 cup hoisin sauce
1/2 cup honey
1/2 cup beef broth
2 tablespoons barbecue sauce (I like to use Dreamland from Tuscaloosa, Alabama)
1/2 teaspoon toasted sesame oil
2 tablespoons vegetable oil
2 tablespoons finely chopped garlic
2 tablespoons finely chopped ginger
2 tablespoons Chinese fermented black beans, if available, or salted black bean paste or sauce (optional)
1/4 teaspoon red pepper flakes
1/2 cup finely chopped fresh cilantro
Honey, for drizzling 
1. Preheat the oven to 325°F.
2. Place the rib racks in a roasting pan and sprinkle with the salt and pepper. Add the broth and marinade. Cover with aluminum foil and bake for 1 hour and 45 minutes.
3. When the ribs have completely cooled, remove them from the cooking liquid. Cut in between the bones of the rack so they are cut into individual rib pieces and set aside.
4. Combine all the ingredients for the cooking sauce and set aside.
5. In a large wok or large heavy skillet (10 to 12 inches), heat the vegetable oil over medium heat. When the oil is just about to sizzle add the garlic, ginger, black beans, and red pepper flakes. Stir for 1 minute.
6. Add the ribs to the wok or skillet, continuously, lifting them to make sure they get covered with the garlic mixture. Stir-fry for 5 minutes, or until the ribs are heated through, scraping the bottom of the wok or skillet to make sure there's no burning
7. Add the cooking sauce and continue to stir the ribs for 2 minutes. Cover the wok or skillet, reduce the heat to low, and cook the ribs for 10 minutes.
8. Add the green onion and stir well. Cover the wok or skillet and remove it from the heat. Let it sit for 5 minutes. 
9. Place the ribs on a large platter or divide among individual serving bowls. Sprinkle them with cilantro and drizzle with honey. Get ready to get sticky!