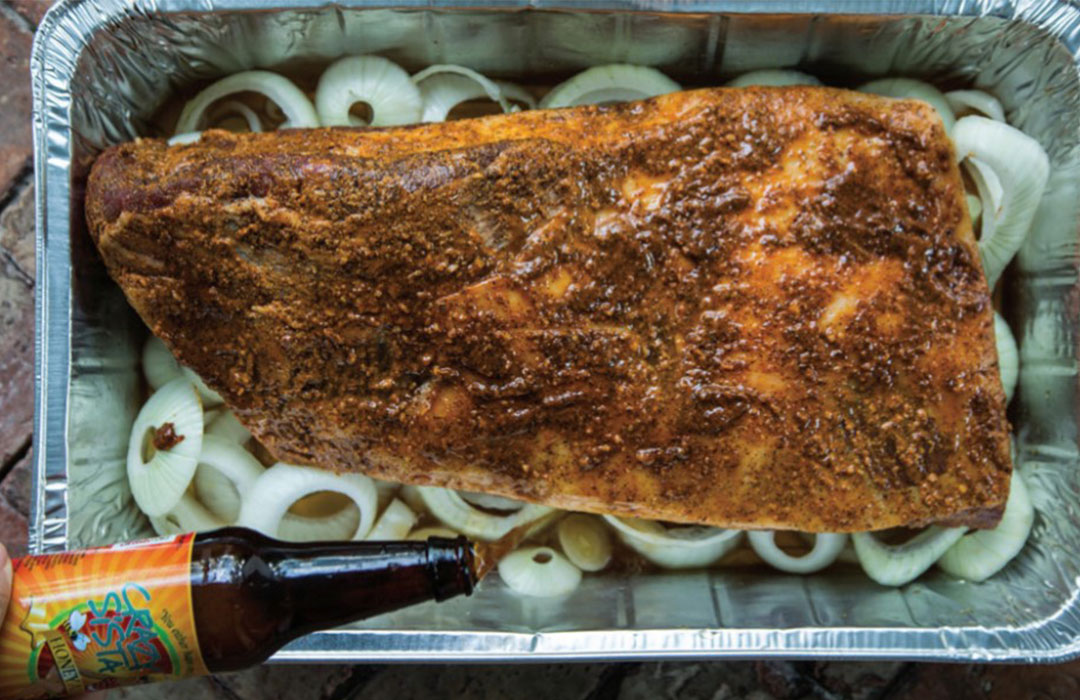 It's 4th of July weekend! If your holiday involves gathering with a group – whether it be at the beach, for a picnic, or a potluck- this beef brisket recipe is PERFECT! Not only does it feed a party, it keeps beautifully and reheats easily. When I have made it in the past, I served it with King's Hawaiin Rolls and everybody made their own little brisket sliders. Whatever your plans may be, I wish you ALL  the sun, fun, and GumboLove! Let me know if you make the brisket! Happy 4th! Love, LuLu
Serves 12 to 15
1 (8 to10 pound) beef brisket, untrimmed
6 garlic cloves, finely chopped
2 tablespoons packed brown sugar
2 tablespoons Creole mustard
2 tablespoons sea salt
1 tablespoon freshly ground black pepper
1 teaspoon cayenne pepper
2 tablespoons ground cumin
1 tablespoon ground Coriander
1 tablespoon paprika
1 teaspoon dried or oregano
3 tablespoons extra virgin olive oil
2 large sweet yellow onions, sliced vertically
1 (12 ounce) bottle beer or honey ale
Instructions:
Rinse the brisket and pat it dry. If it is extra fatty, trim off a little of the fat, but not too much. With this brisket, you want the fat to make the delicious cooking juice.
In a medium bowl, combine the garlic, brown sugar, mustard, salt, black pepper, cayenne, cumin, coriander, paprika, oregano, and olive oil, mixing well until it has the consistency of a wet paste.
Slather the paste over the brisket so that it is fully coated on all sides, both ends, and in all crevices. Wrap the brisket in plastic wrap and refrigerate for 24 hours. When you are ready to cook it, pull it out of the refrigerator and let it sit until it reaches room temperature, about one hour.
Preheat the oven to 325°F.
Scatter the onion in the bottom of a large roasting pan.
Carefully unwrap the brisket and place it on top of the onion. Pour the beer or honey ale into the pan over the onion. Cover the pan tightly with aluminum foil and bake for 5 to 6 hours. I usually check it at 5 hours. The brisket should be juicy and falling apart. At this point if you'd like it to have a crispy top, turn the oven to broil, remove the foil, and brown the brisket under the broiler. Otherwise I'll usually cover the brisket and put it back in the oven for the additional hour, where it will brown but not as crisply as if you'd broiled it.
Place the brisket on a shallow serving platter and let it cool slightly. Cut it or pull it apart and spoon some of the cooking juices from the pan over the brisket. Serve with the cooking juices in a bowl alongside.
To re-warm the brisket later, just put the brisket back in the pan with the cooking juices, cover, and warm it up in a 250 to 300°F oven for about an hour. By that time, it looks pretty much like the famous debris from Mother's in New Orleans and makes a great day-after sandwich.
Note: I often use a disposable aluminum turkey roasting pan, especially if I'm taking the brisket as a potluck dish.