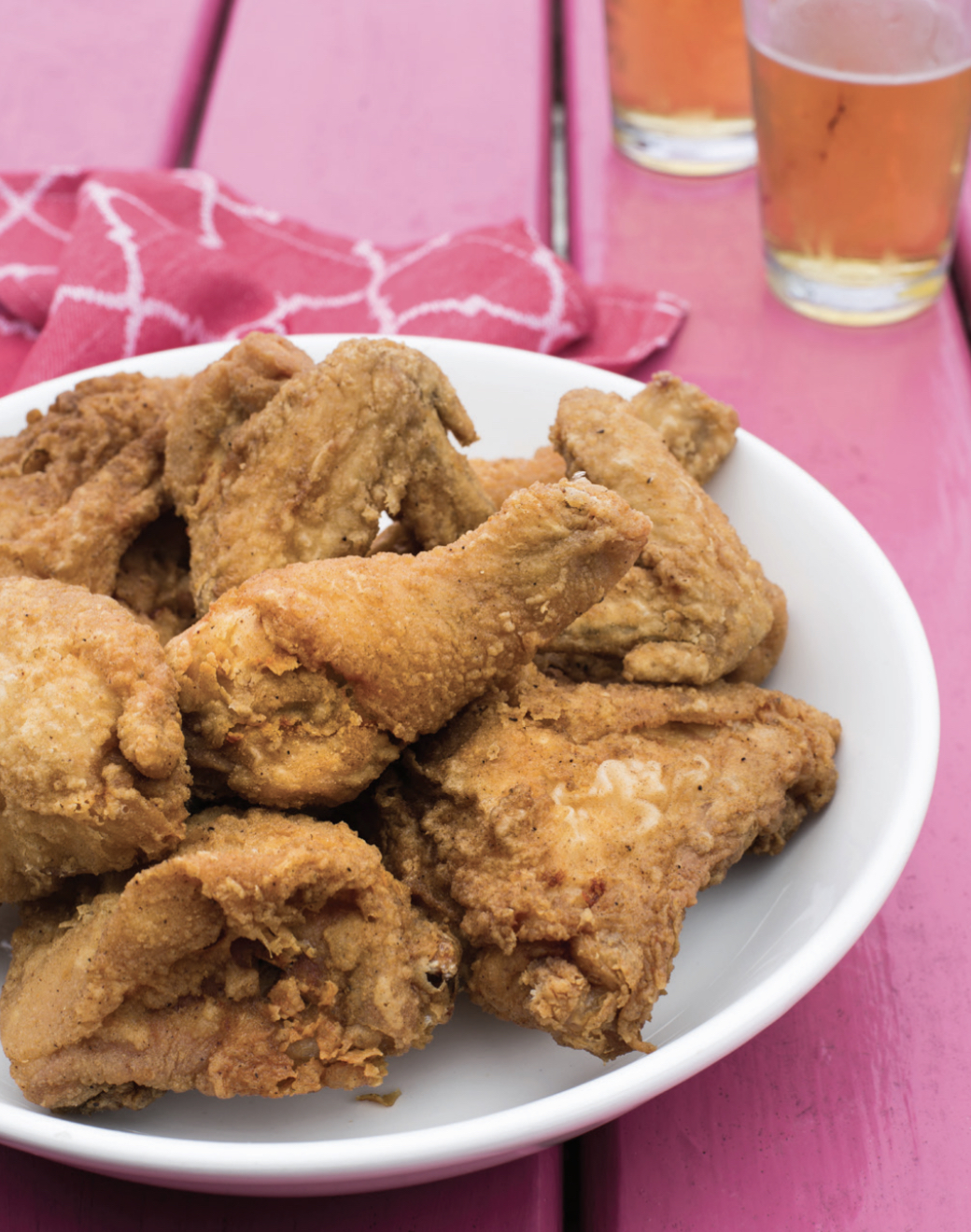 If I had to pick one dish that reminds me most of my daddy, JD Buffett,  it would be his fried chicken. With a side of mashed potatoes and a good helping of butter beans … it was my favorite Sunday dinner for sure. It's so good in fact that I put his fried chicken recipe in my cookbook. Daddy had a magic-touch with frying chicken that I still don't have even after all these years. He didn't need to use a thermometer and every single piece that he fried came out to perfection. I highly recommend using a thermometer, but definitely have fun with it and be fearless in the fryer! 
Let me know if you make Daddy's Fried Chicken, or if you have any special tricks or tips you use when frying chicken. Comment below, or on social media. I love hearing from you! 
Happy frying and Happy Father's Day to all the dads and father figures out there! 
Mucho Gumbo Love, LuLu
Serves 6
INGREDIENTS
1 whole chicken, cut up
5 ½

  

tablespoons LuLu's Crazy Creola seasoning (or other Creole seasoning)

6 cups all-purpose flour
About 2 cups of vegetable oil, for frying, or enough to fill the skillet halfway (Daddy always used Crisco brand)
DIRECTIONS
Season the chicken pieces generally generously with one and a half tablespoons of the Creole seasoning.
In a paper bag, combine the remaining 4 tablespoons Creole seasoning and the flour. Shake and lightly turn the bag to distribute the spices in the flour.
Put the chicken pieces in the bag. Shake and turn the bag to evenly coat each piece of chicken.
In a large heavy skillet (10 to 12 inches, preferably cast iron), heat the oil over medium high heat until it registers 355°F on a candy / deep-fry thermometer, or until a little flour flicked into the oil sizzles.
Place the white meat pieces in the skillet and fry for 8 to 10 minutes, then flip and cook for 5 minutes or so more, making sure the thickest part of the thickest chicken pieces reaches at least 165°F. Daddy never used a thermometer on his chicken, but not all of us have his magic touch – so do use a thermometer if you're worried about pulling the chicken out before it's finished cooking all the way through. Your touch and your eye will get better with practice, though.
Once all the white meat is finished cooking, repeat with the dark meat pieces. Cooking the dark meat will take 3 to 4 minutes more.
Place the chicken on a baking sheet lined with paper towels until ready to serve. Try not to steal a wing when nobody's looking.
Note: you will need a heavy duty paper bag.