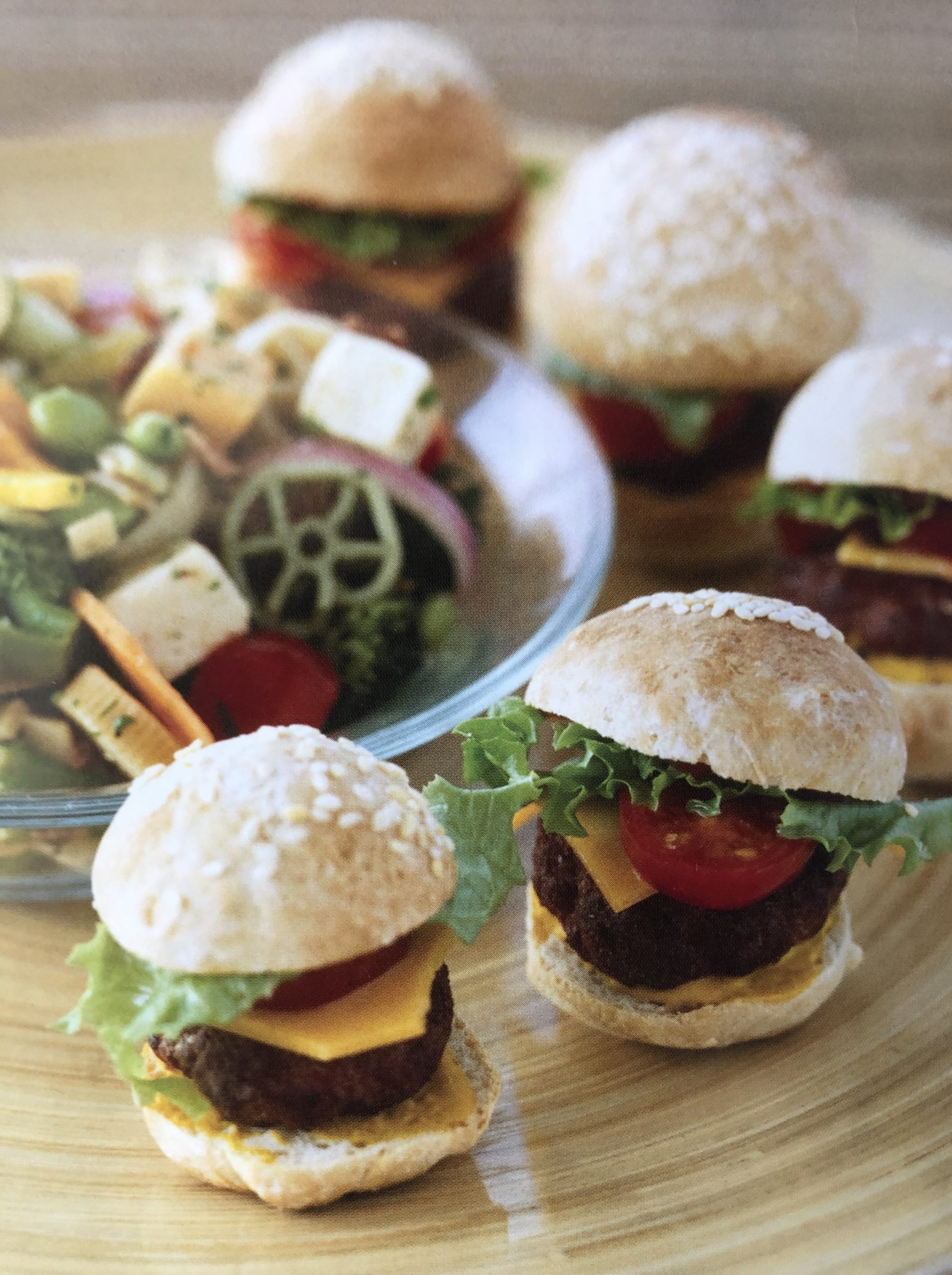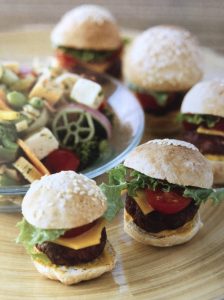 My pre-teen grandkids are already getting excited about Friday night high school football home games. It's a big deal in Fairhope where they live. If you're from a town or state where football is king like it is in Alabama, then you know what I'm talking about. We start getting into it YOUNG! 
I do love a fun Fall football party and I can't wait to host one this year. Maybe the Auburn / Alabama game in November? Hmmm.  Might as well start planning the menu today! 
Inspired by and for the "Kid's Play" section of my first cookbook, these "Wee Burgers" are the perfect party food and a great  accompaniment to  traditional football party snacks like chips and guacamole, pretzels, pasta or potato salads, snack mixes, a fancy charcuterie board, or a big batch of hand-cut fries. 
Since my mouth is watering just typing this, maybe I should 'pre-season' the Wee Burgers this weekend and take them to my daughter's house to have for the kids' Fairhope Friday Night Lights tonight!
Happy Football & Fall Y'all and Always Gumbo Love,
LuLu
WEE BURGERS (MAKES 12)
BURGERS:
1 pound ground beef sirloin
1/4 teaspoon salt
1 pound black pepper
1 egg yolk, lightly beaten
2 tablespoons Steak sauce  or Worcestershire sauce
2 – 3 tablespoons olive oil
12 mini burgers buns or standard dinner rolls
TOPPINGS, OPTIONAL:
Cherry tomatoes, cut in small rounds
Green leaf lettuce, torn in tiny pieces
3 slices cheese, each cut into four equal squares
Small pickle slices
Ketchup, mustard, or mayonnaise
In a medium mixing bowl, break up ground beef by hand and season with salt and pepper.
Whisk together egg yolk and steak sauce and add to ground beef. Continue mixing everything by hand.
Using about 2 tablespoons of ground beef for each, roll beef gently into 12 equal balls and gently press down to make half-inch thick patties. Make a thumb-indentation in the middle of each patty.
Place all toppings on a serving platter and refrigerate until burgers are cooked.
Heat olive oil in a heavy skillet over medium hot heat. Cook burgers about three minutes on each side. Add cheese squares once done. Melt cheese a little and remove from heat to stand for a few minutes.
For crispy, warm buns, please cut side down on the skillet to lightly brown.
Build your mini burgers, adding a dollop of ketchup, mustard, or mayonnaise on bottom half of bun. Layer mini patty, tomato, lettuce, pickle and the top half of bun. You might want to use a decorative toothpick through each mini burger to help hold them together until you serve.
LuLu clue: for homemade baby-buns, use Pillsbury refrigerated French bread dough. Cut into equal parts, roll into balls, dip into sesame seeds and bake according to package directions. One package will make 12 buns.