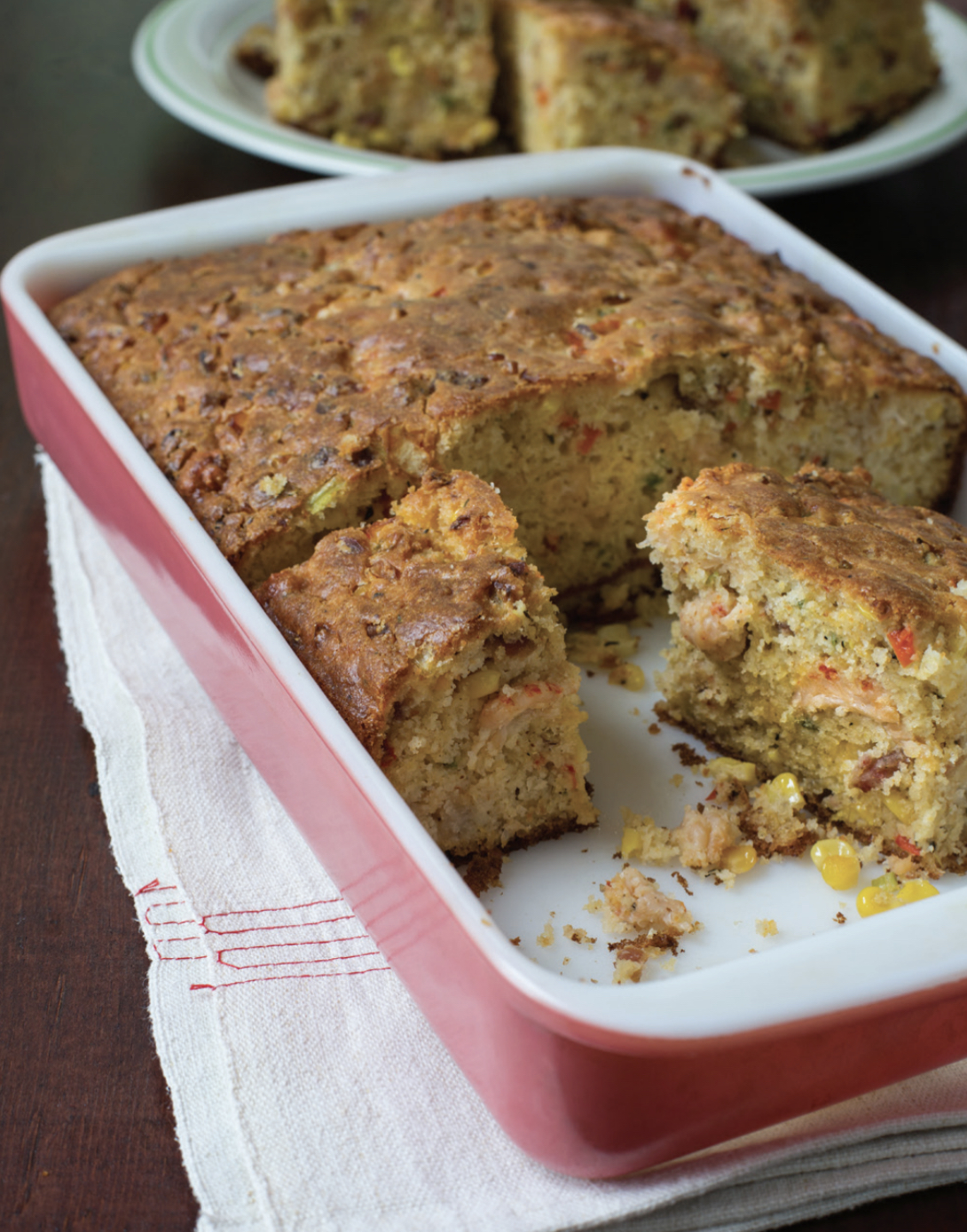 Crawfish cornbread is a Louisiana dish resembling a southern spoon bread, but features that exotic New Orleans ingredient, crawfish. Fresh water shellfish born in the bayous of Louisiana, crawfish were until recently, impossible to enjoy unless you traveled there. These days, crawfish meat exported from Louisiana is available frozen in markets around the country. Probably most famously featured in the Cajun dish crawfish étouffée, crawfish can be used in any gumbo or seafood cream sauce. This recipe takes the little "bugs" and adds them to a very moist, almost pudding-textured corn bread featuring all the flavors of an étouffée, along with the knockout combination of cheese and creamed corn. This recipe makes for a great one-dish main course or a hearty side dish.
Crawfish Cornbread Casserole
Serves 6 to 8
Organic olive oil cooking spray
3/4 cup finely chopped Conecuh sausage or other style smoked pork sausage
1 cup finely chopped yellow onion
2/3 cup finely chopped celery
2/3 cup finely chopped red bell pepper
1/4 cup finely chopped jalapeño
2 teaspoons finely chopped garlic
1 teaspoon dried thyme
1 pound crawfish tails, boiled and shells removed (See note)
1 cup self-rising flour
2 cups self-rising yellow cornmeal mix
1 teaspoon sea salt
1 teaspoon freshly ground black pepper
1 teaspoon LuLu's Crazy Creola Seasoning or other Creole seasoning
1 tablespoon sugar
7 large eggs
2/3 cup vegetable oil
1 cup buttermilk
1 cup shredded sharp cheddar cheese
1 cup canned cream corn (there is a recipe for Southern Fried Creamed Corn in my cookbook, Gumbo Love)
Instructions:
Preheat the oven to 400°F. Grease a 9 x 13-inch baking dish with olive oil spray.
Heat a large heavy skillet (10 to 12 inches) over medium-high heat. Add the sausage and cook until browned. Transfer the sausage to a plate covered in paper towels.
In the same skillet, sauté the onion, celery, bell pepper, and jalapeño in the leftover grease from the sausage until tender, adding a little vegetable oil if needed. Add the garlic and sauté for 1 minute more. Turn the heat off and add the thyme and crawfish tails. Return the sausage to the pan. Set aside to cool slightly to room temperature.
In a medium bowl, combine the flour, cornmeal mix, salt, black pepper, and sugar.
In a large bowl, whisk together the eggs, oil, and buttermilk until blended. Fold the cheese and creamed corn into the egg mixture until just combined. Fold the dry flour mixture into the creamed corn mixture until just combined, making sure not to overmix. Stir the crawfish mixture into the batter just to combine, again making sure not to overmix.
Pour the batter into the prepared baking dish and bake for 55 to 60 minutes, or until a toothpick inserted into the center comes out clean.
Note: crawfish that have already been boiled are readily available for purchase, including online.