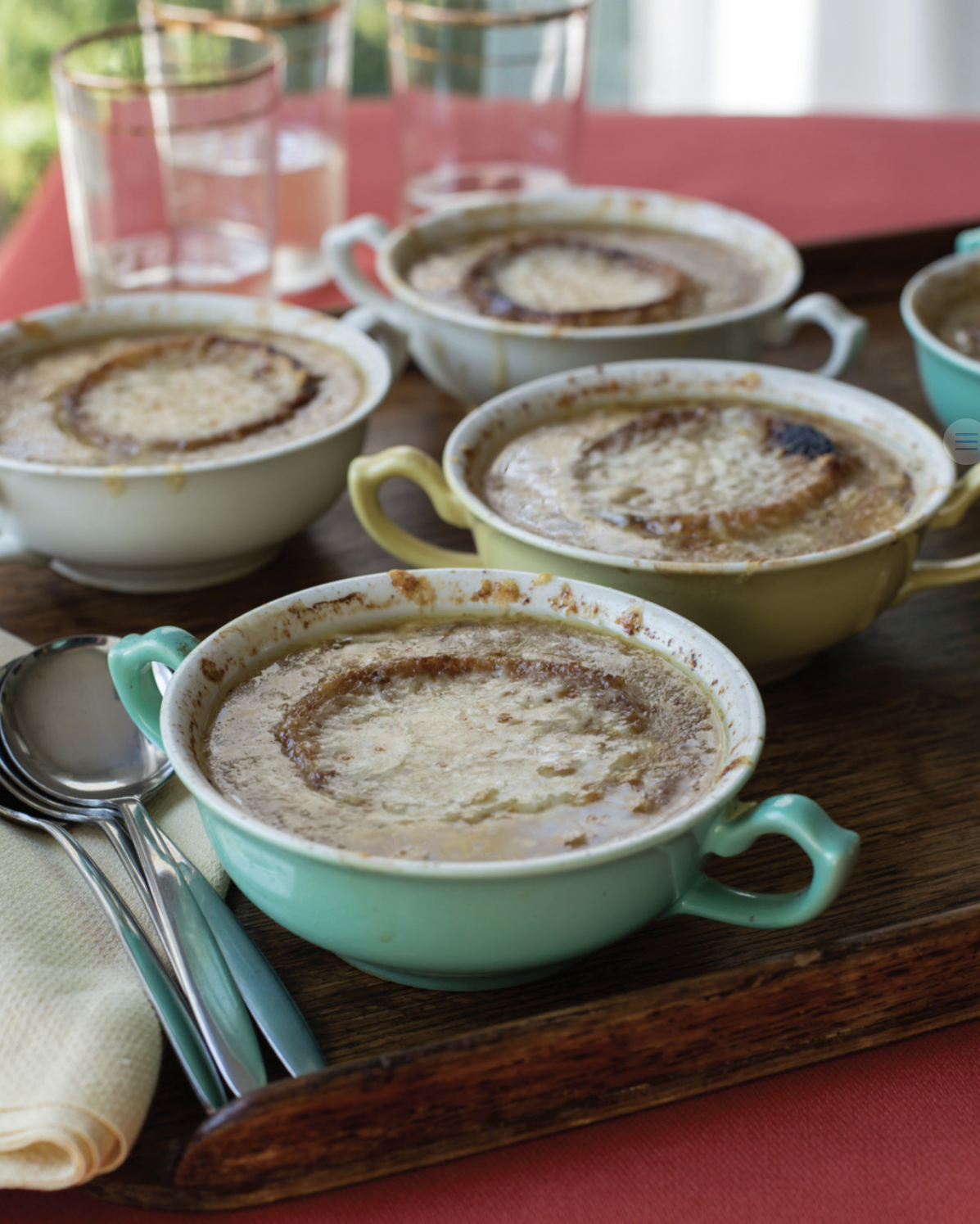 French Onion Soup with Fresh Rosemary
Serves 6 to 8
½ cup (one stick) unsalted butter
4 onions, thinly sliced lengthwise (6 to 8 cups)
½  teaspoon sea salt
1 tablespoon sugar
6 garlic cloves, finely chopped
3 tablespoons all-purpose flour
3/4 cup white wine
8 cups beef broth
2 bay leaves
3 fresh rosemary sprigs
1/4  teaspoon freshly ground black pepper
2 tablespoons Worcestershire sauce
8 ounces Gruyère or Swiss cheese,  shredded (about 3 cups)
Toasted Garlic Bread Rounds:
4 tablespoons (½  stick) unsalted butter
2 garlic cloves
1 loaf of French bread, cut into 1-inch-thick slices
Instructions
In a large heavy skillet (10 to 12 inches), melt the butter over medium heat. Add the onion, salt, and sugar and cook, stirring, while the onion cooks down and caramelizes, about 20 minutes. You may have to reduce the heat to keep the onion from burning and keep scraping the bottom of the pan to loosen all the gooey residue.
When the onion is dark brown, add the garlic and cook for 2 minutes more. Stir in the flour, making sure the onion is well cooked. Cook for 1 to 2 minutes more, being careful not to burn the mixture.
Add the wine to deglaze the pan, stirring continuously and scraping up the browned bits from the bottom of the pan. Remove from the heat and transfer the onion mixture to a medium stock pot.
Add the broth, bay leaves, rosemary, pepper, and Worcestershire and bring to a boil over medium high heat.
Let the soup boil for 2 minutes, then cover, reduce the heat to low, and simmer for 45 minutes.
To make the toasted garlic bread rounds:
  6. Preheat the broiler.
  7. In a small sauce pan, melt the butter over medium low heat. Use a garlic press to press the garlic cloves and stir them into the butter. (If you do not have a garlic press, you can smash the peeled cloves with the flat side of a knife so they are mushy and stir them into the butter.) place the bread slices on a baking sheet. Brush the garlic butter over the top of the bread slices. Broil the bread for about 1 1/2 minutes, or until it is beautifully browned. Remove the pan and turn the slices over. Broil on the second side for about 1 minute, keeping a close watch to make sure it browns but doesn't burn. Leave the oven on broil.
To assemble:
8. Remove and discard the bay leaves. Taste the soup and adjust the seasonings with salt and pepper. 
9. Place eight ovenproof soup bowls in a sturdy baking dish (or two). Ladle the soup into the bowls. Top each bowl with a toasted garlic bread round and shredded cheese and broil until the cheese is browned and bubbling. Serve immediately.