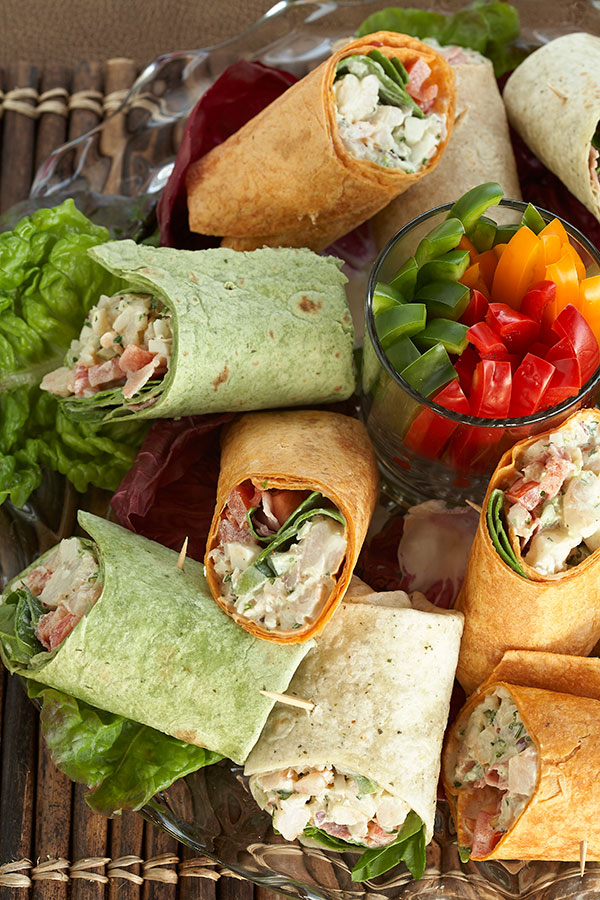 These quick, easy and delicious wraps make the perfect Coastal Summertime snack. Great unique twist to the usual chicken and tuna salad wraps, serve along side with bell pepper sticks for a healthy low carb option.
Prosciutto Wraps
Serves 8
Ingredients
1 tablespoon butter
8 thinly sliced pieces of Prosciutto
4 spinach flour tortillas
4 tomato flour tortillas
3-4 heirloom or 1 pint of grape tomatoes, coarsely chopped
2 cups baby spinach leaves, thoroughly rinsed and dried
4 cups LuLu's Summer Shrimp Salad (recipe follows)
16 whole Grape tomatoes
Fresh cut garden herbs for garnish
Instructions
Melt butter in a large frying pan. Place prosciutto in sizzling butter and pan fry over medium heat for 1 minute. Turn meat and cook for another minute or until slightly browned but still soft. Reduce temperature as needed. Remove prosciutto to a cutting board and cut meat into thin strips.
TO MAKE ONE WRAP: Place one of the tortillas on a clean flat surface.
Line tortillas with a few spinach leaves.
Sprinkle with 1 tablespoon chopped tomato.
Spread ½ cup shrimp salad over tomatoes and spinach.
Sprinkle 1 – 2 tablespoons of prosciutto strips over shrimp salad.
TO ROLL WRAP: Take both the left and right sides of the tortilla folding each side one inch toward the center. Then roll from the bottom, being sure to keep the left and right sides tucked in as you go.
Cut wrap in half on a diagonal with a serrated knife. Place a grape tomato on the end of a 3-inch frill pick and stick through each half of the wrap.
Repeat using all tortillas. Place wraps on a large platter, alternating spinach and tomato wraps for a colorful presentation. Garnish platter with stems of fresh garden herbs.
Summer Shrimp Salad
Make 6 – 8 servings
Ingredients
3 pounds of LuLu's Perfect Peel-and-Eat Shrimp, peeled and chopped into medium to large pieces
1 cup chopped celery
¾ cup chopped red onion
½ cup chopped green onion
3 hard boiled eggs, chopped
2 tablespoons finely chopped parsley
1 teaspoon salt
1 teaspoon white pepper
1 teaspoon LuLu's Crazy Creola Seasoning or any creole seasoning
2 tablespoons Dijon mustard
½ cup mayonnaise
1 tablespoon freshly squeezed lemon juice
Instructions
In a large mixing bowl, combine all ingredients, stirring gently.
Cover and refrigerate overnight or for at least 2 hours before serving.