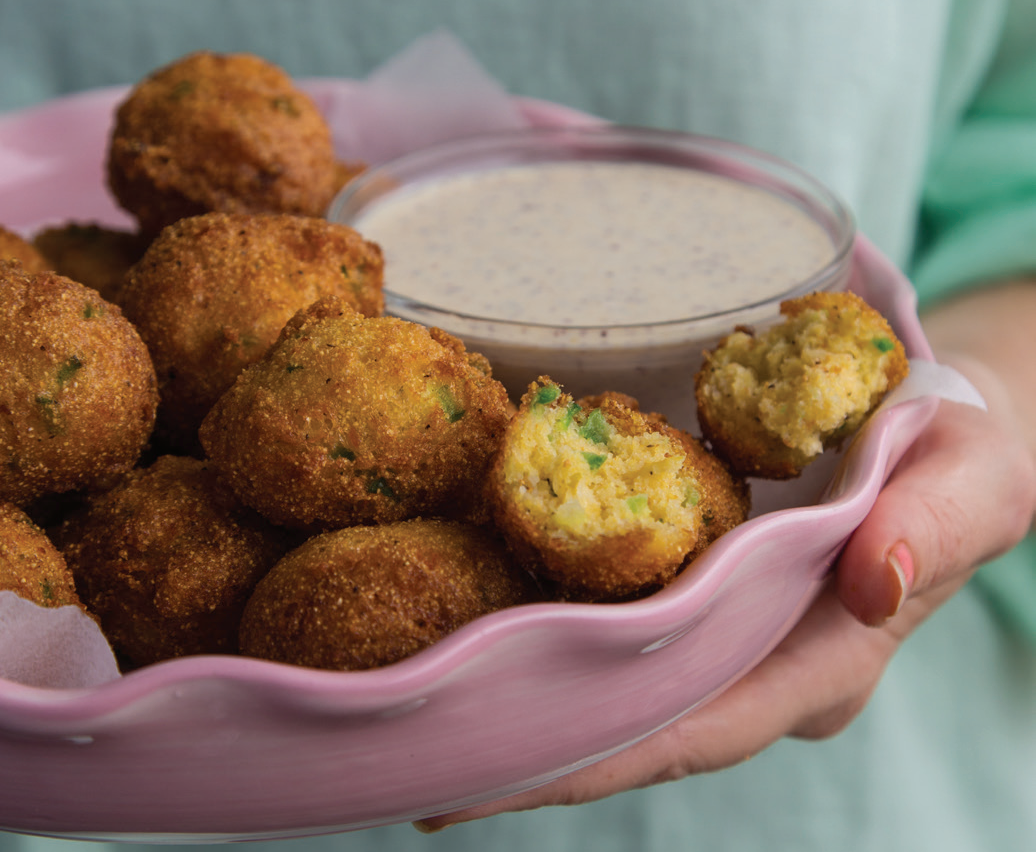 Hush puppies for the win! If you serve hush puppies at your next game-day party, everyone will leave happy no matter the outcome.
These 'pups' really are the best party food and appetizers. One- because they're fried (who doesn't love fried food at a party?). And two- because you can serve them with a variety of your favorite sauces. This is an easy trick to make a more flavorful and visually interesting spread. Everybody wins when hush puppies come to the party!
I hope you try and enjoy the recipe from Gumbo Love. Let me know if you do and how it goes.
Happy Fry-ing!

Love,  LuLu
HUSHPUPPIES
INGREDIENTS
Makes 38 to 42
6 cups vegetable oil, for frying
1 cup yellow cornmeal
½ cup all-purpose flour
1 ½  tablespoons sugar
1 teaspoon baking powder
1 teaspoon baking soda
1 teaspoon sea salt
1 teaspoon freshly ground black pepper
1 large egg
1 cup buttermilk
1/4 cup finally chopped onion
1/4 cup seeded and finally chopped jalapeño
1/4 cup canned creamed corn
2/3 cup shredded sharp cheddar cheese
DIRECTIONS
1.  In a large heavy Dutch oven or pot, heat the oil over medium high heat until it registers 355°F on a candy deep fry thermometer or until a little flower flipped into the oil sizzles.
2.  In a small bowl combine with the cornmeal, flour, sugar, baking powder, baking soda, salt, and pepper and set aside.
3.  In a large bowl, combine the ad add the butter milk and whisk together until blended. Fold the onion, jalapeño, creamed corn, and cheese into the egg mixture.
4.Fold the dry ingredients into the egg mixture until all is incorporated making sure not to over mix.
5.  Using a rounded tablespoon, or your hands, form the dough into small balls, using about 1 tablespoon of the hush puppy mixture for each. Working in batches of 6 to 8, carefully place the dough balls in the hot oil and fry until golden brown, 1 to 1 ½  minutes, rolling them over in the oil to brown evenly on all sides. Remove the Hushpuppies and place them on a baking sheet lined with paper towels or a wire rack.