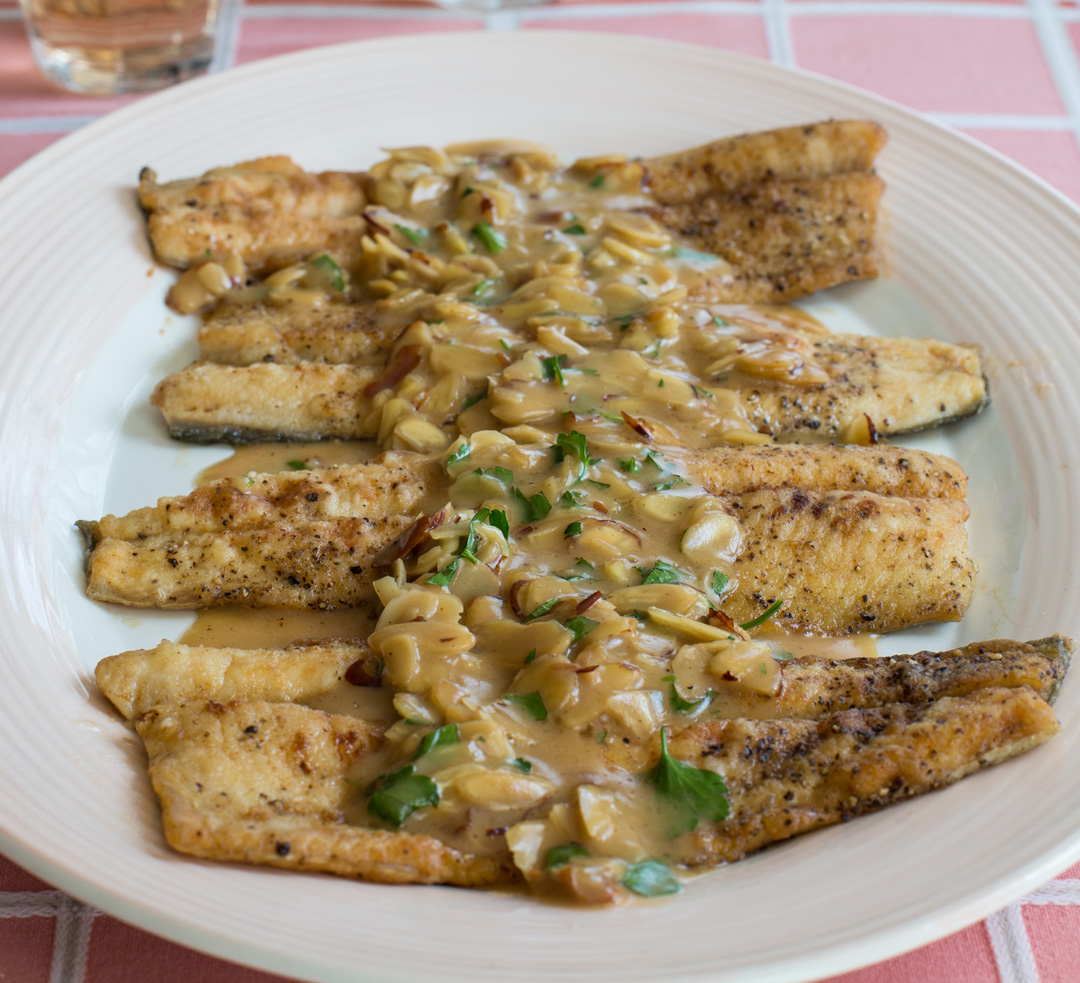 Growing up Catholic my family always practiced 'Fish on Fridays' during Lent. One place that my folks used to take us to dinner on Fridays was a beloved Mobile, Alabama restaurant called Constantine's. My father loved to order the Scamp Amandine. It's a beautifully pan-fried fish topped with plenty of almonds browned in a lemon-butter sauce. It is simply sublime! The scamp is a small Gulf Coast grouper that is deliciously flavorful. You can substitute another grouper, or some other seasonal trout for this treasured old-school recipe.
Some of my early traditions still hold true. And I am sure to make this dish, in honor of the season and my daddy, on an upcoming Friday. 
Gulf Classic Scamp or Trout Amandine – Serves 4
4 scamp or trout fillets, 6 to 8 ounces each
2 teaspoons sea salt
2 teaspoons freshly ground black pepper
2 cups all-purpose flour
2 tablespoons extra-virgin, olive oil, plus more if needed
1 cup (2 sticks) plus 2 tablespoons (chopped into cubes) cold unsalted butter
1 cup white wine
1/3 cup fresh lemon juice
1/4 cup Worcestershire sauce
1 cup sliced almonds, toasted
1 tablespoon chopped fresh parsley
Preheat the oven to 250°F.
Season the fish fillets with the salt and pepper and dredge them in the flour.
In a large heavy skillet (10 to 12 inches), heat the olive oil and 2 sticks of the butter over medium high heat.
When the oil and butter begin to sizzle, add the fish fillets. Don't let the butter begin to brown; reduce the heat if necessary. You don't want to overcrowd the skillet. Cook the fillets in two batches if the skillet isn't large enough; just add more olive oil, and butter before starting the second batch. Cook the fillets in the skillet until the first side is a nice golden brown, then flip them and cook the other side until golden brown. The fish should be turned only once, so let it cook thoroughly before flipping.
Once golden brown, remove the fish fillets from the skillet and place them on a baking sheet uncovered. Keep warm in the oven.
Add wine to the drippings in the hot skillet. Deglaze the pan, scraping up any gooey bits stuck to the pan and stirring them into the wine. Cook until the liquid has reduced by half.
Add the lemon juice, Worcestershire, and almonds. Cook for about a minute.
Remove the skillet from the heat and, a little at a time, slowly swirl in the remaining 2 tablespoons butter cubes, then add the parsley and fold it in gently.
To serve, place all the fillets on a large platter, and top generously with the sauce, or plate, each fillet individually and top with sauce.